The met gala is the iconic fashion event that many await each year. What started nearly a century ago as an event meant to inspire theatre designers quickly became the party of the year following its orchestration in 1948 by Eleanor Lambert, the New York fashion week pioneer. But it wasn't until 1970 that Vogue former editor-in-chief Diana Vreeland joined as a consultant and shaped the Met Gala as we know it today. Anna Wintour, current editor-in-chief, now presides over the event, hand-selecting its bizarre themes and celebrity attendees.
This year's met gala theme, "Karl Lagerfeld: A Line of Beauty," has sparked some controversy online. The late icon is responsible for unique and unmatched work in fashion for Chanel, Fendi, Balmain, and many other designer labels. Karl's unorthodox designs and outlandish fashion shows have undoubtedly put him on the map as a branding genius. However, Lagerfeld has also self-designated a persona called "The Kaiser" and has unapologetically refrained from using a filter when speaking publicly. In response to this year's Met Gala theme honouring the work and influence of the designer, people have taken to social media to assess how or if it's possible to separate a controversial artist from his marvellous art and creations.
Twitter Responds to the Met Gala Theme of 2023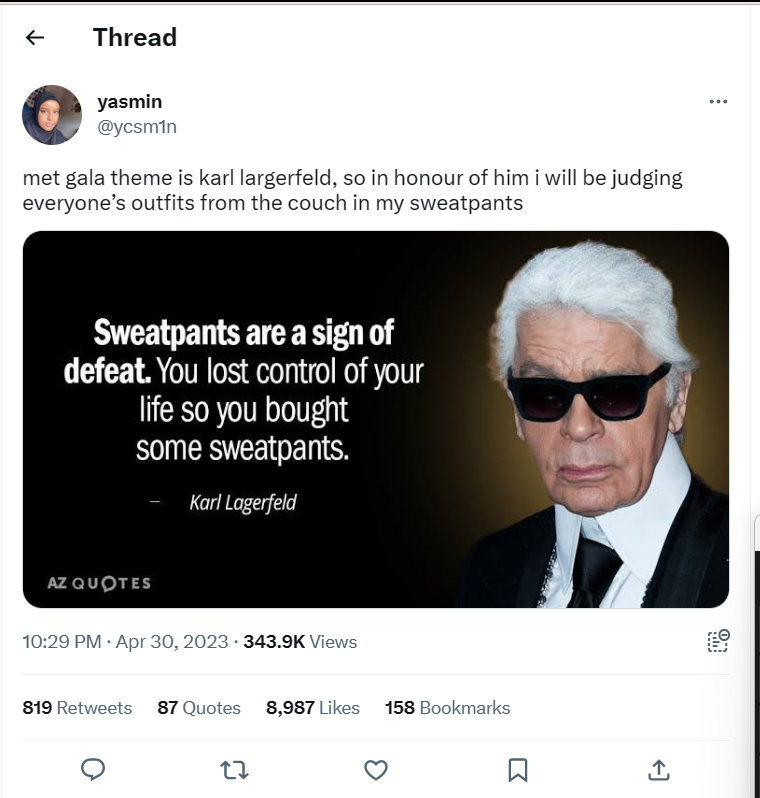 The renounced fashion icon Lagerfeld has criticised the fashion choices of the masses, with one of those criticisms taking a jab at people who wear sweatpants. In true Twitter fashion, users highlighted his comment to shed light on the controversy of the theme and showcased outfits humorously.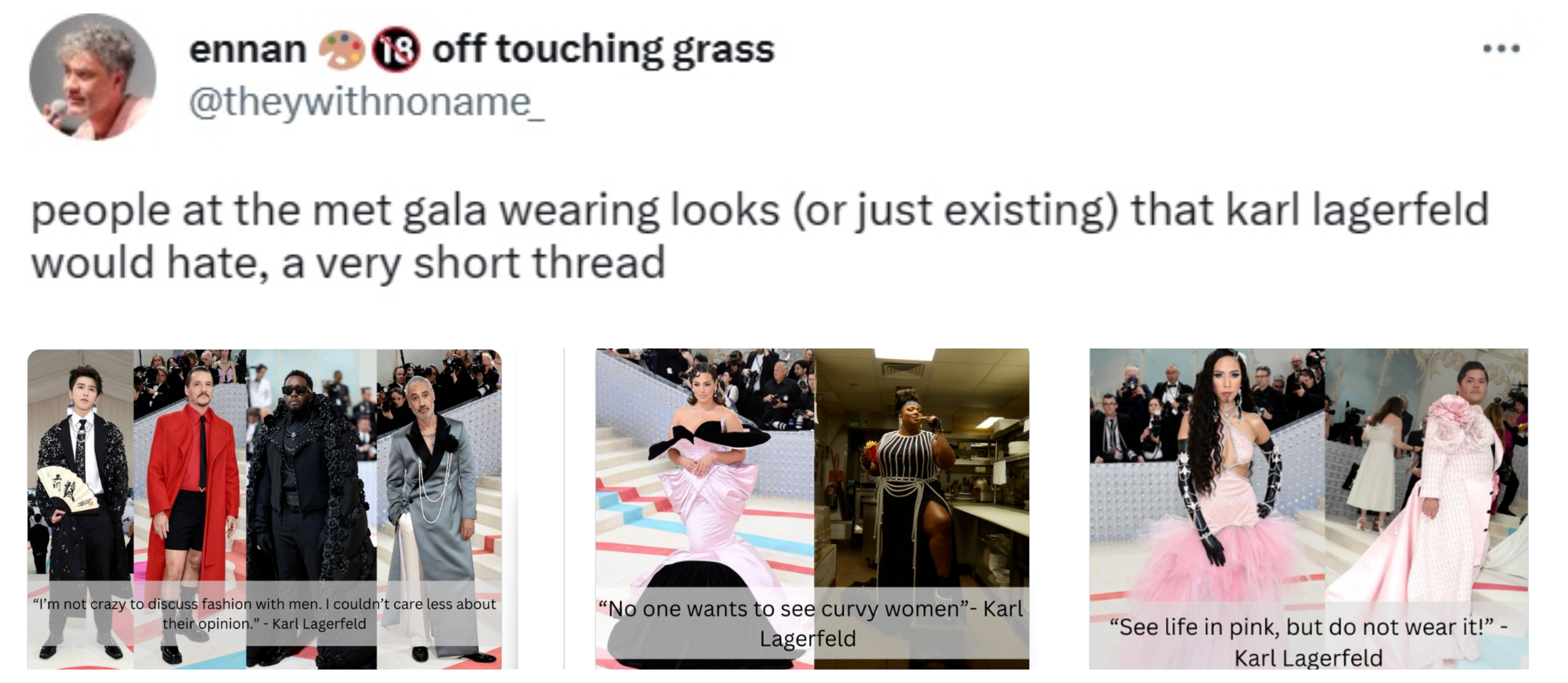 While others coped with the fashion choices of this Met humour, others preferred to denounce them openly. The Twitter handle @theywithnoname_ pointed out that the late Karl would disapprove of several of the outfits worn by the event guests and the people wearing them.
TikTok Content Creator Reacts to the Met Gala Theme
TikTok has been a safe space for people to express their opinions freely since its launch in 2020. Different app creators thoroughly discuss and criticise all major events, especially in pop culture. For example, creator Alysia Cole took to her following to address the theme of the Met Gala and the many controversial statements that the tributed fashion creator said over the years.
She states, "There's no denying Karl's impact on the fashion industry. So many of the people who are going to be at that Met Gala are not people Karl would've liked or celebrated. So, to me, the question becomes, how do you dress for an occasion where you're supposed to honour a man who would not want you to honour him?" We think the controversy of this year's shocking theme, unexpected guest list, and questionable red carpet looks couldn't have been summed up better!