Following the success of the "Forever Is Now" art exhibition at the Pyramids of Giza last year, Art D'Egypte is launching a second edition of the event. It invited artists to transform the last remaining of the seven wonders of the ancient world into the language of the present. Forever Is Now II, planned to run from the 27th of October to the 30th of November, will feature contemporary art that pays tribute to the environment, people, and the future. The exhibition will bring more than eleven ambitious public artworks by regional and international artists together in the majestic Pyramids of Giza.
More About Art D'Egypte
Founded by the innovative Nadine Abdel Ghaffar, Art D'Egypte offers art consulting services to institutions, corporations, and individual collectors and curatorial services to both public and private sectors. The multidisciplinary firm strives to bridge the gap between Egyptian artists and those in the rest of the world by assisting young local artists with little resources needed to get their work presented and published.
Moreover, the company aims to catalogue Egypt's modern art legacy by producing documentaries on contemporary Egyptian artists. In raising awareness, the team's goal is to help preserve Egypt's heritage while also advancing the international profile of modern and contemporary Egyptian art to present a different and unexpected view of Egypt to the world.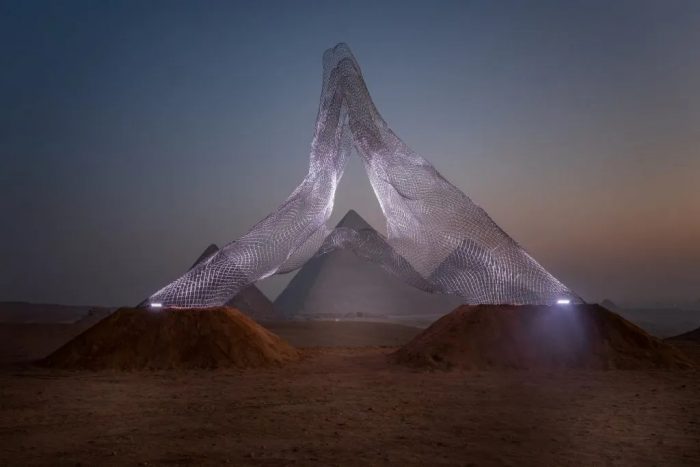 The Theme of Forever Is Now II
Building on the buzz of last year, Forever is Now II will seek to portray the compelling worries of sustainability and climate in an age when the world is on the verge of a point-of-no-return crisis. These issues will be explored through the eyes of a diverse group of artists whose majority of works are made from locally produced and obtained materials, ranging from fibreglass and steel to stone and marble.
The installations scheduled to appear in Giza will once again showcase an ode to our understanding of the past and a projection of ourselves into the future. Art D'Egypte has a sure way of connecting both eras, so we would advise you to cancel all plans for this weekend and go and merge yourselves into imaginative art on the doorstep of the Great Pyramids of Egypt!