It's the Rap God's time to shine — as if he doesn't already do that — and if you don't listen to Eminem, we understand, but if you don't know him…have you been living under a rock your whole life?
Marshall "Eminem" Mathers is easily one of the most recognisable rappers in the last couple of decades. His story began when Dr. Dre thought it was worth the risk to be the discoverer of such talent. He didn't care about society's view on how Eminem's race didn't match the authentic hip-hop style back in the day.
As of 2022, it's clear that the risk paid off as Eminem is now being considered for induction into the Rock & Roll Hall of Fame, which means it's only natural we discuss his story with you!
The Beginning of Marshal Mathers
Eminem's childhood was, to put it bluntly, turbulent and messy. In fact, we've all clearly seen it play out in the semi-autobiographical movie 8 Mile, in which Eminem starred as a fictionalised version of himself and discusses several aspects of his life, including his childhood and how he'd grown up in an abusive and toxic environment as well as his mother's addiction.
Dr. Dre first noticed Eminem when he won the Rap Olympics in 1997. Right then, he decided to become his mentor and producer, paving the way for Eminem to create his Slim Shady persona and take it to extreme, vulgar lengths. And this is EXACTLY what he gave us in his first successful album, "The Slim Shady LP", in 1999. The album also featured his hit track "My Name Is…", which is still massively popular to this day—it even won him two Grammys and four VMAs. Simply put, he's a GENIUS!
Shortly afterwards, the Marshall Mathers LP was released and became the fastest-selling rap album in the United States, and secured him a Grammy nomination for Album of the Year. Of course, we can't forget that album also featured an Eminem collaboration with Elton John!
Why Should He Earn A Place in the Rock & Roll Hall Of Fame?
If that question crossed your mind, we have a few reasons to answer you. The firstly and most important of which is that the legend earned himself 15 Grammy Awards and one Oscar. We are speechless to this day, but we can see how it happened. Eminem won all these awards for his excellence in production, songwriting, and rapping, because as he said, "We should call him a rap-bot 'cause he raps like a computer, and it's in his genes" (a lyric we strongly agree with)!
We also can't help but think that he himself saw this coming. The rapper had mentioned in his song "Rap God", released back in 2013, that "he wants to blow up, meet Run DMC and induct them into the Rock & Roll Hall of Fame". Part of that lyric came true in 2016 when Run DMC was inducted into the RRHOF, so it makes sense that it's Eminem's turn next. It's PRECISELY why we think he should be in it.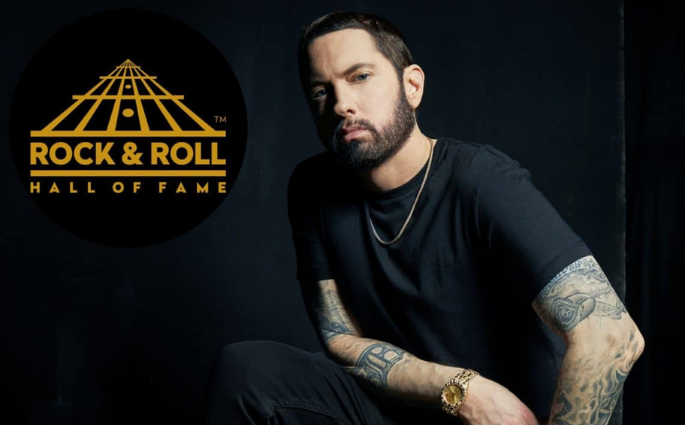 Eminem and His Impact on Rappers Everywhere
And with all of these factors said, Eminem influences MILLIONS of rappers all around the world because he is "Not Afraid" of ANYTHING. His lyrics are pure, vulgar, and honest to the extent that rising rappers (and us, as the audience) just can't ever get enough of them. It's important to highlight how many Egyptian rappers also look up to Em's achievements in rapping and songwriting, using his music as inspiration as they grow into their own styles. We're even willing to bet that if you listen to any rapper today, you can find some of Eminem sprinkled into his flow.