Image featuring sayidaty.net
After rumours about her pregnancy, Egyptian singer Sherine Abdelwahab finally reveals the reasons behind her mysterious disappearance. Egyptian lawyer, Samir Sabry, submitted a complaint against Abdelwahab for insulting Egypt, accusing her of saying (earlier this year at a concert in Bahrain) that there she has "complete freedom unlike Egypt, where if you talk freely you go to jail". However, this was not the only contributing factor to her absence, as there were also rumours regarding her pregnancy and further rumours about her terminating it. Amidst all this pressure and negativity, all Sherine had by her side was the support of her fans.
It was then that Abdelwahab's fans got together as one support system and came up with the hashtag #Eshta2nelakSherine. Given Sherine's absence from social events for the longest time, her fans did not leave her side and persisted in bringing her back. It was surely Sherine's strength in rising above and staying quiet amidst all the rumours that got her through this. Nonetheless, it's important to note that without the crowd's support, Sherine wouldn't have valued her worth, as she herself claims.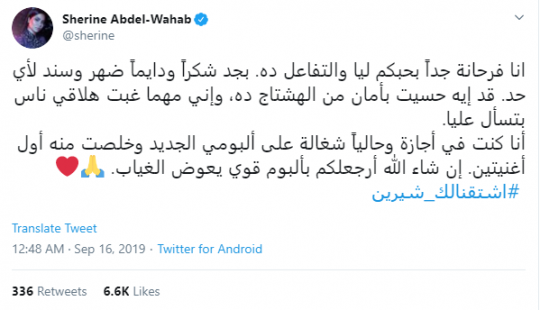 The star responded by showing appreciation for the presence of the fans, thanking them for being a backbone to lean on. She went on to say that she feels a sense of security thanks to her fans, and now she knows that wherever she goes, she has a home. She ended her post with an exciting note, announcing that her new album, Nassai, is to be released on October 8th, which happens to be her birthday. Abdelwahab stands tall, all thanks to the reinforcement and encouragement of her fans.
Every now and again, we have to remember that celebrities are also human beings. It is true that, at times, we enjoy sticking our noses in their business, but at the same time, we should be wary of how words have power. And as much as they have the power to destroy, they also have this ability to nurture and boost.
Step outside yourself, notice your surroundings, be aware of the judgments you make and claims you produce, and then ask yourself, to what extent does my statement coincide with the truth? As Sherine's fans have proven, words have the power to promote a fan's new album, so use your words wisely; they are like x-rays piercing through your skin. Even if it's as simple as making someone's day, keep in mind, #SherineEshta2etlohomKaman.