Mohamed Ramadan is hands down one of the most constantly criticised stars in Egypt. If it's not for his art, then it's about some irresponsible life choices such as the pilot's cockpit picture or his sister's recent wedding. But this time, Ramadan is under the spotlight for choosing the right words after receiving a racist comment on his son's skin colour.
As Ramadan was teasing fans for his upcoming music video for a new, yet to be released song, Coronavirus, he posted a behind-the-scenes photo with his son, Ali. It's just a random picture of a father and his son, with little Ali rocking natural curls and an outfit that's the same as his dad's. So why shower this young kid with some hate speech?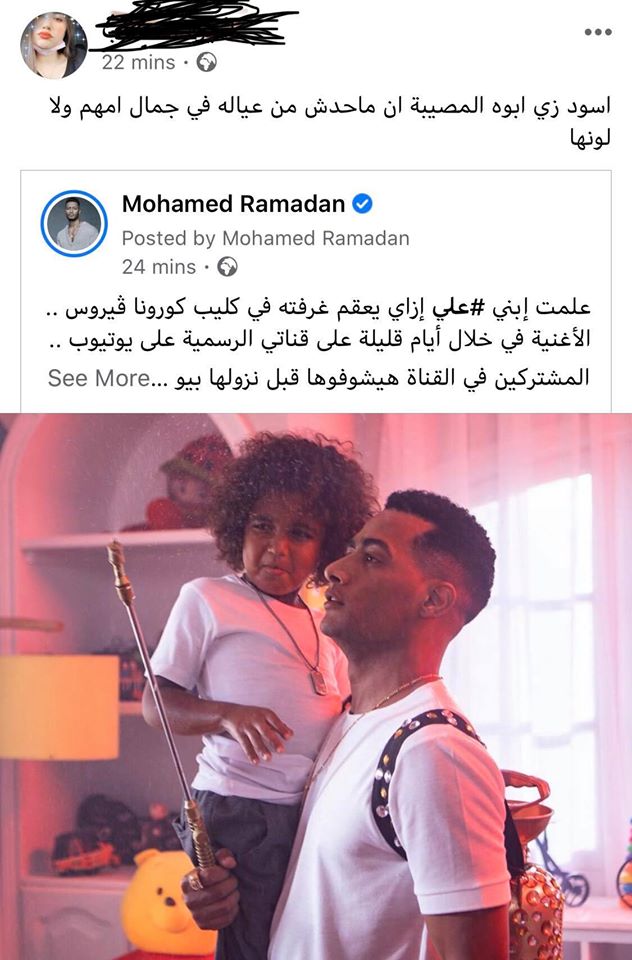 "Black like his father and the problem is that none of his kids turned out to be as pretty as their mom or got her skin colour," commented one of the superstar's followers, and obviously a hater. 
Last night, Ramadan finally set a great example as he shared the comment and wrote, "I'm proud of my colour and the colour of my father and children that God chose for us. I'm also glad that my kids will grow up to be anti-racism, and the proof is that their mother and father have two different colours."
Calm and on point; Mo Ramadan surely deserves a round of applause for this one. If he didn't set a great example for his fans and Egyptians, then he at least set one for his kids, especially Ali. It all starts at home, and parenting plays a significant role in how future generations will be shaped. So, kudos to Ramadan for being the dad Ali will look up to!