If you've been on the internet in the past few days, you might have noticed the huge backlash and public rage directed at Elham Shahin. You might also have been curious about what the backlash was even for, at least until you know that her newest play is called The Respectful Prostitute.
Yes, now you might be able to guess why there have been several contradictory opinions on Facebook and Twitter.
Before we get into these reactions, we're going to need some background on the actual play. Written by Jean-Paul Sartre 75 years ago after the author's visit to the United States in 1946, The Respectful Prostitute is based on a true story about racism, which no one would have guessed based on that title.
Here's something even more odd: the play was presented in Egyptian theatres in the 1960s. A lot has changed from that era, though, with Samiha Ayoub directing the newest edition of this play after playing its lead in the original run. It's also important to note that this edition of The Respectful Prostitute will be Elham Shahin's theatrical comeback after 22 years!
So, how did people react? Some thought that the play's title should be changed to suit our Egyptian culture, while others expressed their excitement. The latter included actor Amir Salaheldeen, on his official page on Facebook, where he briefly summarised what the play is about and pointed out that it's known elsewhere as the Scottsboro Boys.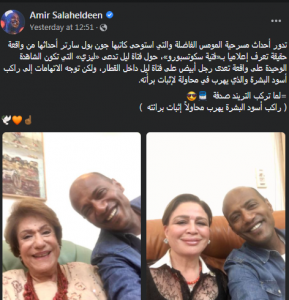 Although the title isn't related to its content, Egyptians' raging objections reached Ayman Mohsab, a member of the Egyptian House of Representatives. From there on, the news went viral in a way that was quite intriguing.
At the centre of this drama, Actress Elham Shahin also had her say through Amr Adeeb's TV programme, El Hekaya. In a phone interview, she stated that she believes the play isn't promoting any unethical deeds.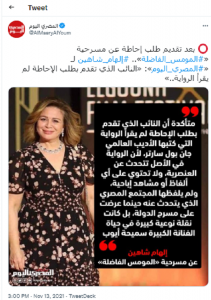 There you have it – that's the story behind the viral Respectful Prostitute trend. Now, you can follow and understand what all those memes are about. Tell us, though, what do you think?