If you're into innovation or entrepreneurship, there's a huge event waiting for you next week! Whether you're looking to expand your connections, hear about the experiences of others, or pitch ideas, then RiseUp Summit is your place to go.
Connecting you with the region's most inspiring entrepreneurs, startups, and ecosystem enablers, the popular RiseUp Summit '21 is back from Thursday, 25th of November, until Saturday, 27th of November.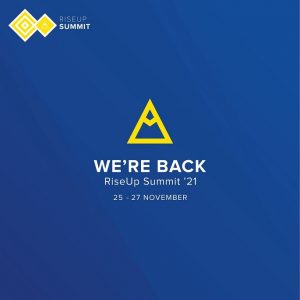 The summit will take place at The Great Pyramids in Giza, with this year's theme being Timeless Innovation. The Pyramids is a great and appropriate choice for the summit's venue, right? Generations later, they never fail to awe and inspire people across all walks of life!
There's another reason why this year's RiseUp Summit is special is it's the fifth year. Started in 2013 by Muhammed M. Mansour, Abdelhameed Sharara, Con O'Donnell, and Gehad Hussein, RiseUp came to life, and the rest was history for the Egyptian summit-sphere.
If you're curious about how the whole summit started, we'll tell you. All that happened was Mansour saw Austin city's SXSW and became inspired. Years later, the summit began to gain global reach, and some of the world's leading companies started to participate, including IBM, Facebook, Uber, and Pepsi.
If you're interested or involved in startups, tech, or entrepreneurship, you'll find everything that fits your interests at RiseUp. Before you hesitate, we know what you're thinking. No, you don't have to be one of Egypt's leading investors. Anyone can attend.
This is your opportunity to connect with investors, entrepreneurs, and mentors. So whether you have an idea you want to pitch, or you're a fresh graduate who's still lost in the post-grad journey, you can be sure the summit will have all your needs covered. Even food! RiseUp is dedicating a foodie corner with various food and beverage stations within its three-day exhibition.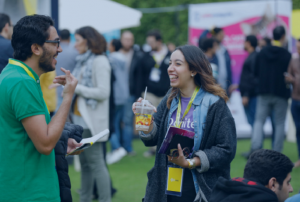 If you decide to attend but you're interested in a specific industry, RiseUp has your back! The summit is divided into three major stages: Captial Stage, Creative Stage, and Tech Stage, with dedicated panels and workshops to encompass every area of knowledge you could think of.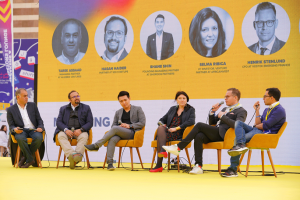 World-renowned entrepreneurs will be waiting for you. A wide range of CEOs, including Marwan Moukarzel, CEO of Fawaz Al-Hokair Group Fashion Retail; Omar Hagrass, Co-founder and CEO of Trella; Elie Habib, Co-Founder and CTO of Anghami; and Amir Allam, Founder and CEO of El-Menus, will be ready to share their wisdom and experiences.
Many international speakers will be a part of the summit as well, such as Deanna Marsigliese, Art Director at Pixar Animation Studios; Claudius Boller, Managing Director of Spotify Middle East, Africa, and South Asia, and many more. Isn't it exciting?
The last step you'll need is to visit the website for more information and to book your ticket! A regular ticket costs EGP 1,000, but the Summit offers a great deal for groups. If you attend with a friend, group tickets cost 800 EGP.