The highly anticipated Creative Industry Summit is back for a new edition, but this time as an E-conference as an attempt to adapt to the new post-COVID-19 lifestyle. As usual, Egypt's event that celebrates the creative ecosystem is promising top-notch speakers from all creative fields. 
"This exceptional gathering of the best creative minds brings you a full e-conference experience like never before," Mai Salama Co-founder, Creative Industry Summit
Creative Industry Summit will be a full-on virtual experience. No, it's not some Zoom meeting or a webinar; it's a proper e-conference where you can log in! There'll be a networking area, (which closes when sessions kick-off) and an agenda will be available as well. It'll also be an interactive experience where you get to comment and ask questions to speakers, and, of course, just like any regular conference, there'll be breaks and panels running in parallel.
This year's exceptional edition hones in on three main themes; Creativity and Innovation, COVID-19 and Ramadan Review. So, expect panellists to raise topics and discussions such as creativity in uncertain times, generating a creative culture for your business, product transformation, and much more. This edition's tracks are:
Digital Only

Creativity in time of Crisis

Platforms & brand integration

Content tactics: get them hooked or get lost

Eight recession-proofing tips to survive and thrive in a COVID-19-induced downturn and beyond

Lessons we learned from Crisis Management

Media Strategy Trends

"Innovation & Creativity the way to go in all strategies

Economic indicators for Egypt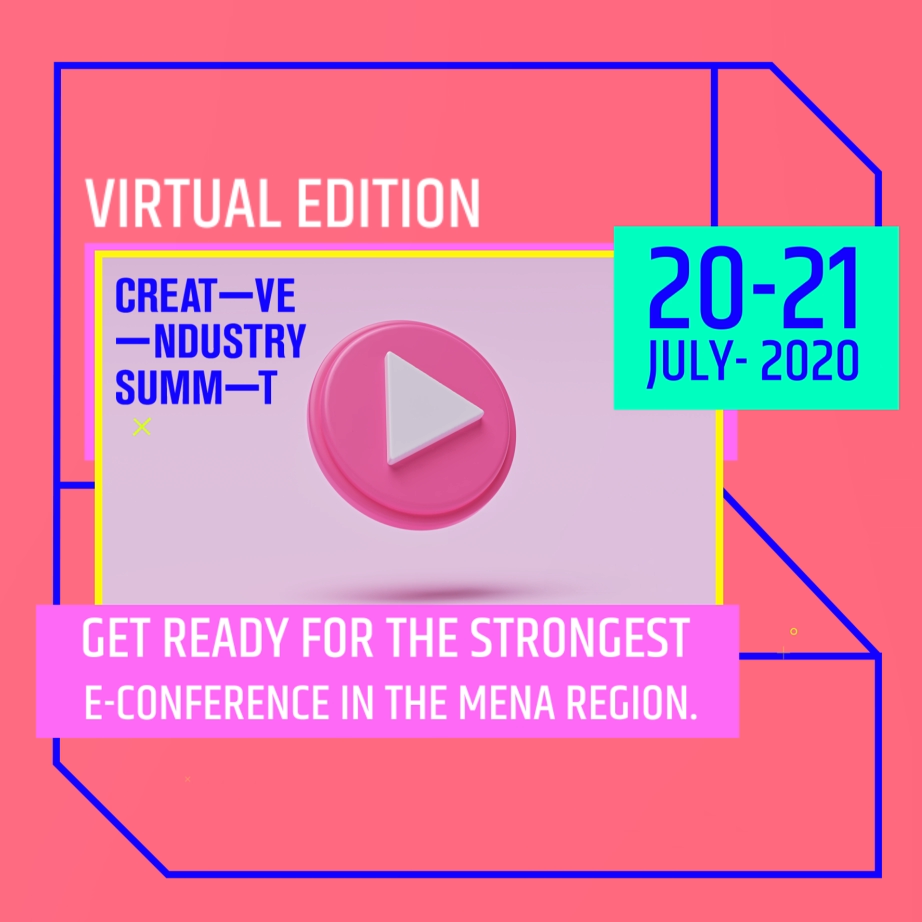 "I take pride that C-S has always been a pioneer in bringing the top-notch gurus in the field, and this year despite the circumstances, C-S is hosting for the first time in the Middle East leading figures across sectors from around the globe to give their views on understanding how creativity and innovation can serve and develop different industries," Mai Salama Co-founder, Creative Industry Summit
Speakers from across the region and the world will share their expertise and ideas regarding the raised topics. Those will include game-changers, business leaders, artists, and experts from all various creative fields. Among those are Sir Martin Sorrell, Executive Chairman at S4 Capital and Founder of WPP plc; Rob Riley, Global Creative Chairman of McCann Worldgroup; Simon Cook, Managing Director of Cannes Lions Festival of Creativity; and Maha Abo El Enien, Chief Value Officer for Gary Vaynerchuk, EVP of Business Development, founder of Organizational Consultants, founder of Digital and Savvy, and Host of SavvyTalk Podcast. In addition to Nihal Abd El Aziz,  General Manager of Magna; Dr Khaled Ismail, founder and Chairman of Himangel; Jeff Danley, Director of Innovation and eSports at VMLY&R; and Jeffrey Nicholson, CEO of Tracer.
The virtual event will be taking place on the 20th and 21st of July. For more information, check out the Creative Industry Summit's Facebook page. And for registration, click here.