Spring, summer, autumn, or winter; sushi suits every season! So whether you already have your favourite go-to sushi spot or you're still looking for new places to add to your list, we'll help you through your searching journey. Every sushi spot has its own vibe, so here are some venues to suit each of your ever-changing moods!
Nagoya Sushi
The restaurant's interior design is the answer if you're looking for a quiet, cosy night out. Located in Nasr City, Nagoya Sushi is the best place for residents on that side of town! On a side note, they have a special offer for birthdays, delicious Nagoya sushi cakes!
Their working hours are from 12:00 pm to 1:00 am, and you can call them on +20 110 073 3551.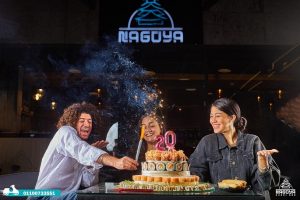 Santoku Sushi & Steak House
Who doesn't love going to a restaurant that offers more than one type of food? Located in New Cairo, Santoku offers sushi and steak, which are totally two different types of food, making this an excellent opportunity to gather your friends and family for an eclectic meal! And that's not all – you can also dance the night away on Santoku's dance floor with a DJ every Thursday.
They're open from 1:00 pm to 12:00 am, and you can reserve your table by calling +20 121 266 9999.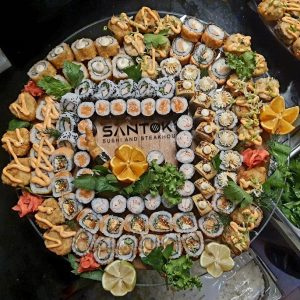 Fuego Grill & Sushi Bar
The upscale casual restaurant has been providing a unique service since 2008, though it keeps upping its game. Fuego is a great option as it has several locations around Cairo, with its newest branch being launched in New Cairo last year.
For more information, visit Fuego's Facebook page.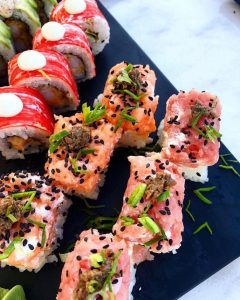 Garnell Sushi & Poke
Another authentic sushi spot that also has multiple locations. If you're looking for a place to make your tummy thank you later, Garnell is the venue with food that will melt in your mouth! You can visit them anytime from 12:00 pm to 1:00 am.
Make sure you reserve your spot by calling them on 15247.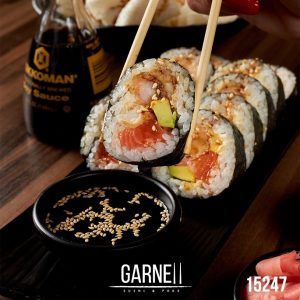 Zi Sushi
We haven't forgotten about Zamalek, Dokki, and Mohandesin residents! We know how hard it is to get outside of your comfort zone, but Zi Sushi will make it worth the wait! You can check out its White Friday offer on the Facebook page, and they also have special offers every Monday and Tuesday!
Working hours are from 11:00 am to 1:00 am, and you can reach them on 0233357020.