Artwork in featured image by Diala Naguib
Mashrou' El Saada decided to continue spreading happiness all over Egypt with its new project, The Happiness Caravan 101.
Launched in 2013, Mashrou' El Saada, had a clear goal in mind; colouring for humanity. The project started roaming Egypt to reach all the undeveloped areas and spread joy in the streets by drawing and painting on walls, supporting the idea of ​​therapy by colours.
The Happiness Caravan 101 is Mashrou' El Saada's first project in 2020, which aims to upgrade Al-Bahrawa Community School in Al-Ayat. The project will be completed within 12 hours on Friday, the 31st of January.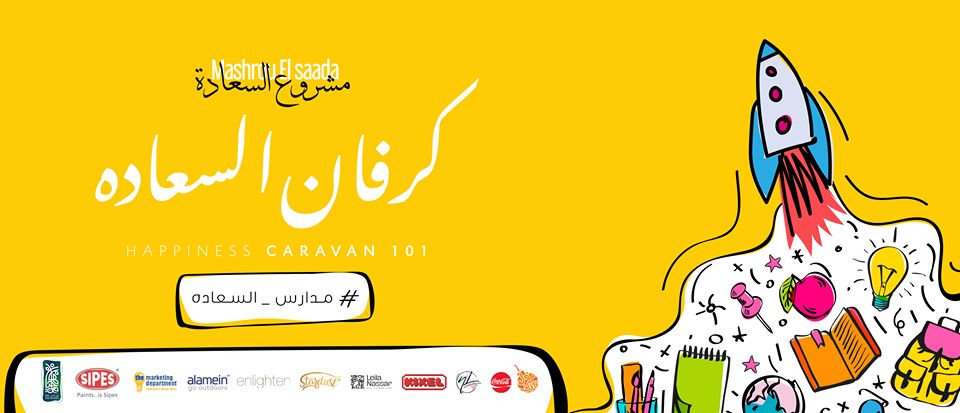 Al-Bahrawa Community School, located in a rural village that suffers from poverty and lack of services, is part of Man Ahyaha's Alternative Education Program. The program is an active learning system designed by education and psychological specialists, aimed at improving and enhancing the awareness, behavioural, and emotional aspects of more than 75 children aged between 8-12 years.
To support the children to develop their personalities and express themselves freely, Mashrou' El Saada, collaborated with many local companies and artists to help in painting the interiors and exteriors of the school. In addition to building a courtyard that'll make an excellent space for workshops and student activities.
The Happiness Caravan 101 has the support of local artists, volunteers, and several entities; such as Sipes Egypt, Kixel, HumanActs, Enlighten Studio, Inertia, Stardust, TMD, and more. So, kudos to everyone who'll be taking part in this; we're super proud!