Featured image via Lamis Magdy
In a time when the music scene is flourishing in Egypt, Gazbee has managed to stand out in the male-dominated DJing industry. Her passion for music and her genre-agnostic mindset, as she likes to describe it, are probably the main factors that put her under the spotlight.
Luckily, we got to interview the London-based Egyptian DJ for this week's #TalentTuesdays feature. Gazbee let us in on her story, her inspirations, and her future projects.
Gazbee's story dates back to her teen years; she developed a passion for music, and it grew with her. "I've always loved music; there is something absolutely therapeutic about it. Growing up, I bought the most up-to-date tapes and CDs," She told us. "I sang (my brothers still insist my voice was terrible) and I used to write (very cheesy) song lyrics as a dramatic teen. I've always been the person with the iPod in hand, curating playlists and background music for our friends' gatherings," she added.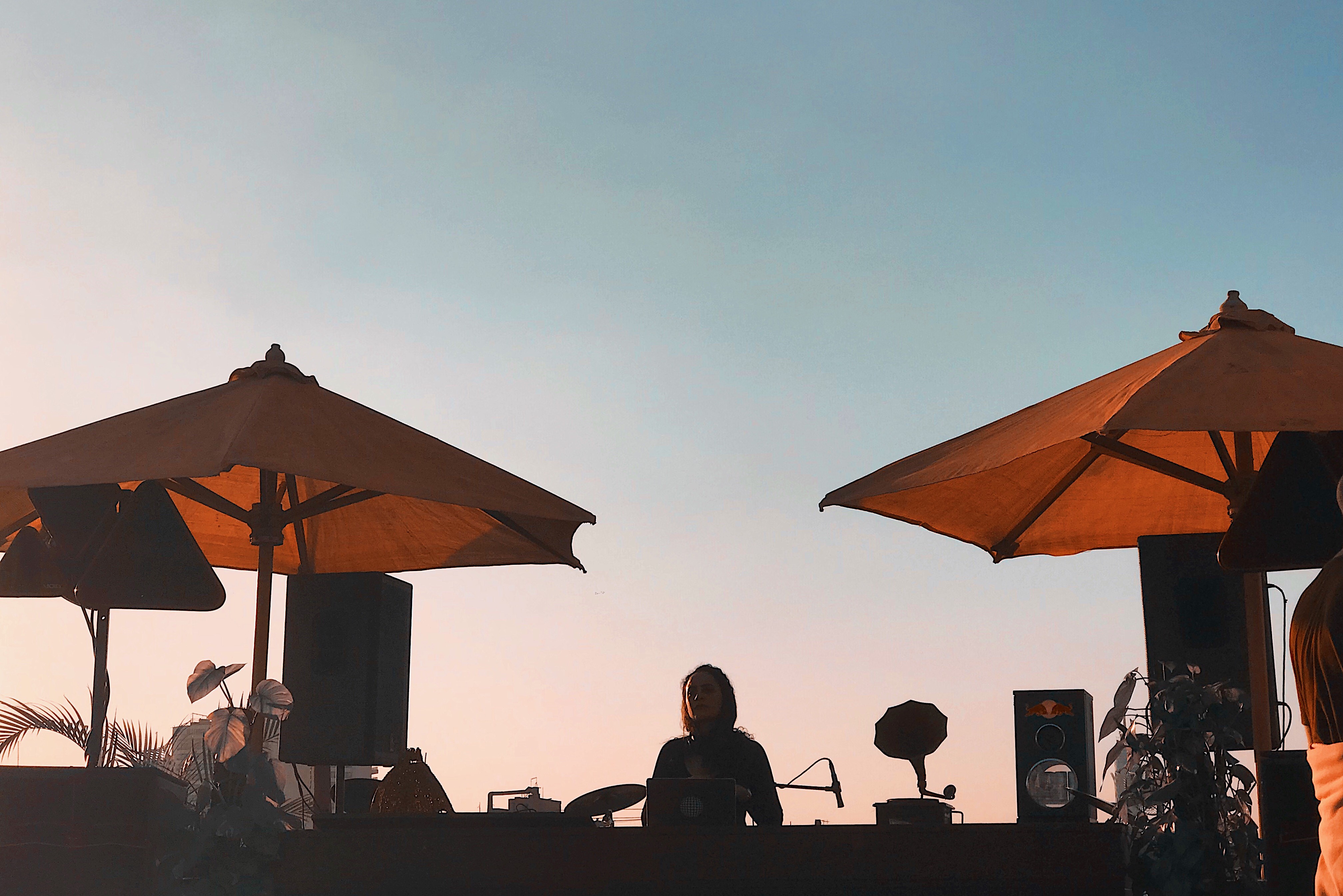 Via Bashar Galal
In 2017, Gazbee was going through a hard time, and she couldn't think of a better way to deal with it other than music. "I really think music can have a profound impact on mental health and wellbeing," she said.
Unfortunately, she didn't have the patience to learn a musical instrument, but thanks to her best friend and one of Egypt's prominent DJs, Misty took her under his wing and let her in on the DJing secrets. As Gazbee picked it up in only three lessons, she immediately felt it was a sign from the universe. Later that year, for her birthday, she received her first-ever mixer, and ever since, she's been hooked. 
If we'd have to describe Gazbee's music, then we'd say that it's incredibly euphoric. Her sets tell stories, real-life stories that she's been through, and if you're part of her audience, you'll definitely find relevant. Stories don't have to be told using words. "I take DJing as an opportunity to tell a story, to create a meaningful experience and to bring listeners along the journey to a place that makes us feel truly alive. Alive through movement, feeling, and connecting," she said.
Also, as the rising DJ isn't inclined towards a particular genre, it helps her reach the hearts of more people. Gazbee likes experimenting with different sounds, she doesn't like to be constrained or limited, and this is what makes her music interesting.
Being an artist is an everyday challenge, and this is why we were so curious to know where Gazbee finds her inspiration. Other than her personal experiences, she's dedicated to listening to sets on Soundcloud every single day; this has helped her stumble upon new songs and artists. 
She listens to a diverse range of music as she doesn't like boxing herself in one genre, as we previously mentioned. Gazbee is very fond of DJs and producers that have South American influences, like Nicola Cruz and El Buho. She also follows a lot of German artists; she thinks Heimlich Knuller is a genius in the way he crafts his sets, and she's also an avid fan of Lotte Ahoi and RSS Disco too. She's learned a lot from each of these artists and believes that there's still so much to explore and learn. 
Gazbee also finds inspiration at events where she sees other DJs, becoming part of the crowd instead. Observing the feelings other DJs evoke has helped her a lot by placing herself in the audience's shoes.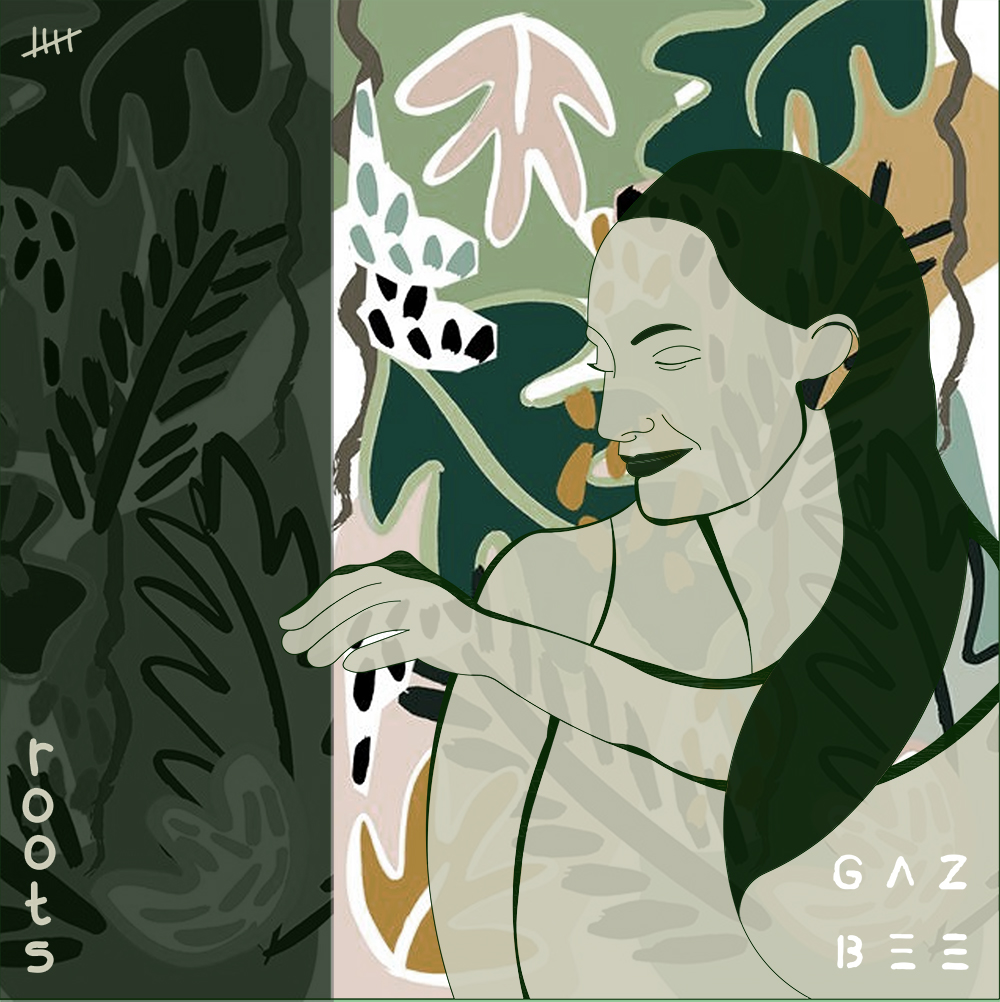 Artwork by Mohamed Talaia
Her friends have also been of great support, providing her with inspiration, collaborations, and more. She has several online groups with her friends, where they all share music for inspiration. Also, Mohamed Talaia, a good friend of Gazbee and a talented set designer, frequently shares music with her. Not only that, but he also happens to be the mastermind behind most of her artwork. Omar Mobarek, the brains behind UNTY, designed some of her earlier ones as well.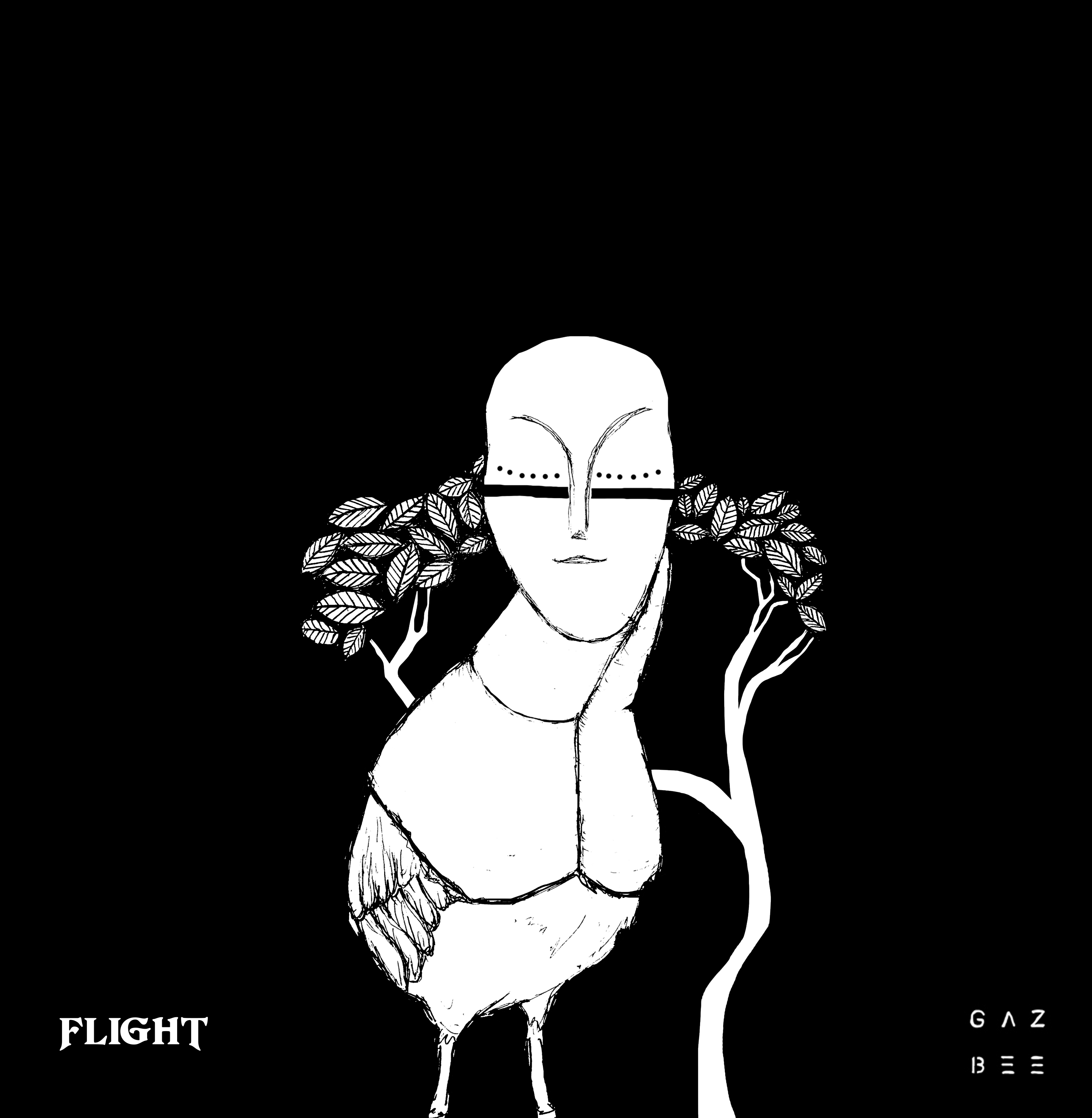 Artwork by Omar Mobarek
Her support system, fortunately, extends to the family. One of Gazbee's special moments was when she played back-to-back with her Brother, Kas. It seems that the love of music runs in the family!
It's quite promising to see another woman making an impact in yet another male-dominated scene. Gazbee told us about the countless incidents when she's been called "bro", "man", or "dude" during online interactions, with a blind assumption that a DJ is always a man. "I always call them out on it but a lot of work still needs to be done to shift that mindset," she commented.
In spite of that, she doesn't like to look at it as an obstacle, but instead, she looks at the full half of the glass, believing that there are growing opportunities for women out there.
"I would like to encourage more women to pursue the art and not to be afraid," she said. "It's an amazing feeling to be in control of the crowd. People don't care if you're a man or a woman behind the decks; they care more about the atmosphere and experience you create."
Finally, we asked Gazbee about her future plans. She told us about a series she just started, called "With Friends", where she co-creates sets with both DJs and non-DJs. She collaborates with people that she deeply connects with over music, offering them the chance to tell a story together and share it with the world. It's a great opportunity for people who can't DJ, in particular, to tell their stories through music.
Other than that and her intentions to play abroad more this year, she's also working on building a music collective that'll hopefully introduce something new to the music scene in Egypt. However, it's still a work in progress. Meanwhile, we highly recommend you give Gazbee a listen on Soundcloud, and if her work gets stuck on replay (which we're pretty sure it will), maybe head to her next gig? The DJ will be playing at the upcoming 2nd Sun, alongside headliners like Tale of Us, Fideles, and more. The event will take place, once again, at Sokhna's Club M on the 3rd of April.