Hany Shaker, Head of Musicians Syndicate, banned 19 artists from performing, including Hamo Bika, Hassan Shakoush, Enaba, and others. Against Shaker, Egyptian businessman Naguib Sawiris has been making his feelings known on his Twitter account for a while now.
If you're not up to date with the burgeoning fight as it grew to new heights, we're more than happy to guide you through it. Just check out the tweets below!
This is what Naguib Sawiris had to say on his official Twitter account in support of these artists: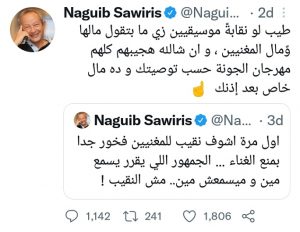 Naguib Sawiris via Twitter
Some people believe that Shaker might be judging these artists based on their social background. He expressed that we shouldn't classify people or treat them based on their social background.
Every day, something new related to this news pops up, and people are expressing their rage about it, including Sawiris, of course.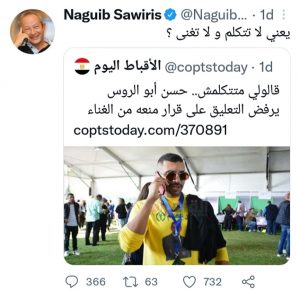 After Sawiris' attack, Hany Shaker had something to say as well. According to this tweet, he blames Sawiris and points out that he is ignorant of all the dimensions of this issue and the music industry.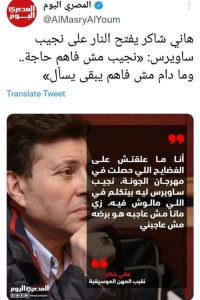 There were some other opposing opinions to Sawiris', and a hashtag on Twitter has been created in support of Hany Shaker.
Hamo Bika replied to Naguib Sawiris' support through his official account on Facebook, but someone had some photoshop skills and imagined him replying this way. Be honest; you read it imagining his voice too, didn't you?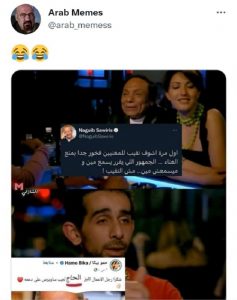 However, Hany Shaker has talked about his appreciation for Wegz and his songs, pointing out that he is an AUC Graduate. We're not quite sure what Shaker is talking about either, but here's what people had to say on Twitter: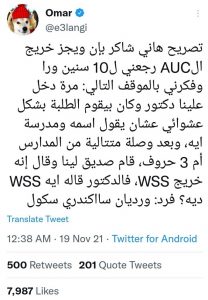 That's a quick wrap up for Naguib Sawiris and Hany Shaker's quarrel. Did you think that this would've gone as far as it did or not?